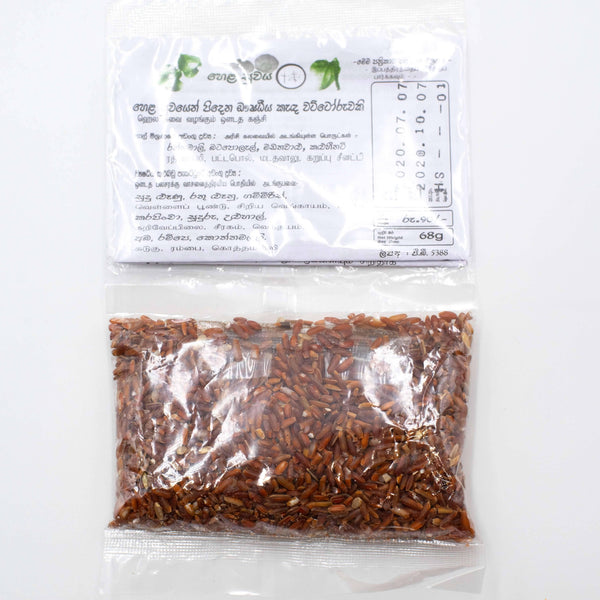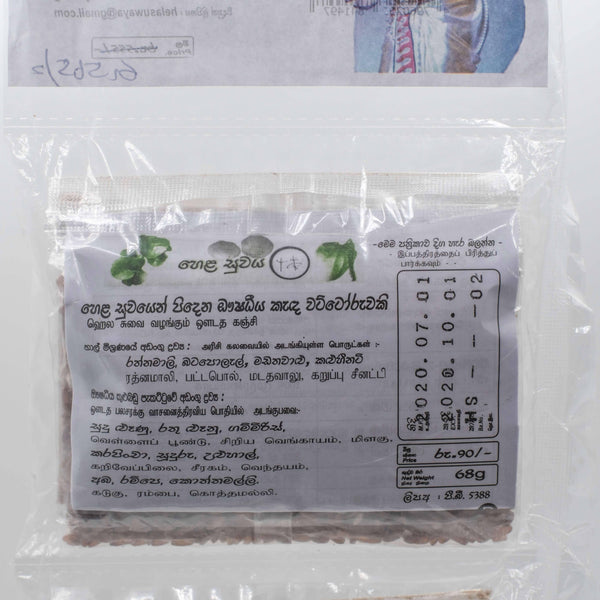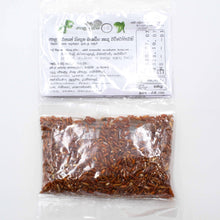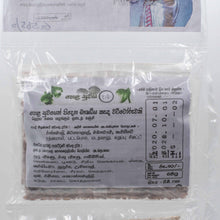 White Lable Porridge
Availability:
Many In Stock
Hela Suwaya
Ingredients:
4 Traditional rice varieties, Allium ascalonicum, Allium sativum, Brassica juncea, Coriandrum sativum, Murraya koenigii, Pandanus amaryllifolius, Anethum graveolens, Piper nigrum, Trigonella foenum
Preparation Instructions:
01. Wash the rice mixture thoroughly.
02. Take 1"x1" pumpkin piece and 2 slices of radish. Cut them into fine pieces.
03. Fill 5 cups (1000 ml) of water into a cooking pot. Add the rice mixture and ½ of the medicinal spice packet. Then cook under low flame.
04. Get 2 cups (400ml) of coconut milk (or fresh cows' milk). Add rest of the medicinal spice packet into it and mix well.
05. When water is heating add prepared vegetables and 3 curry leaves into the cooking pot; then increase the flame.
06. Regularly stir till rice is cooked well.
07. Then add coconut milk (or fresh cows' milk) into it.
08. Boil once again; add some salt to taste; take the pot off the cooker.
DO NOT ADD ANYTHING EXTRA OTHER THAN INSTRUCTED.
DO ADD ALL MENTIONED INGREDIENTS AND FOLLOW THE INSTRUCTIONS CORRECTLY TO GET THE BEST MEDICINAL PROPERTIES OF THE PORRIDGE.
• This porridge is 100% artificial food processing agents free, vegetarian food.
• Traditional rice varieties used for this porridge are grown non-chemically using spice recipes given by Gods who follow Load Buddha.
 Medicinal properties
• It is proven that multiple toxins have entered our bodies through food produced using agro-chemicals and are capable of mutating cells. This porridge has not only high antioxidant activity to prevent those mutations but also capable of eliminating toxins from body.
• Removes extra fat depositions in body.
• Improves natural immunity. Has anti-diabetic and anti-cancer properties.
• Specially removes toxins in blood vessels and lungs out of the body through urine.
• Receive feedback from patients showing that these porridge cure urinary stones, diabetes and many other diseases.
 TO GET MAXIMUM MEDICINAL BENEFIT, ONE CUP (200ml) OF ONE TYPE OF   RICE PORRIDGE SHOULD BE TAKEN DAILY.
Seller Portal